So my son and I are finishing up the 7th grade year, finally. Last year was our 2nd year homeschooling, after pulling my son out of public school at the end of 5th grade and de-schooling him over the summer. We finally found a type of curriculum that we enjoyed together, we tried a few the first year and it was HARD. I thought I was not cut out to homeschool and going back to public school was not an option with how horrible they were to him.
Just a small note- this is NOT sponsored. I am going to be telling you how I feel about the curriculum I BOUGHT with my own money, as we go through it…
So last year we used Sonlight, we enjoyed it for the most part but the science portion shocked me, (Note that I am not that religious) and I found I did not agree with WHAT they were using to teach what they considered "science" and even my friend who was on the phone with me as I read a passage from the book we were using was like "Oh no" .
For 7th grade we used, 2020's All subject W package from Sonlight, below is what was included.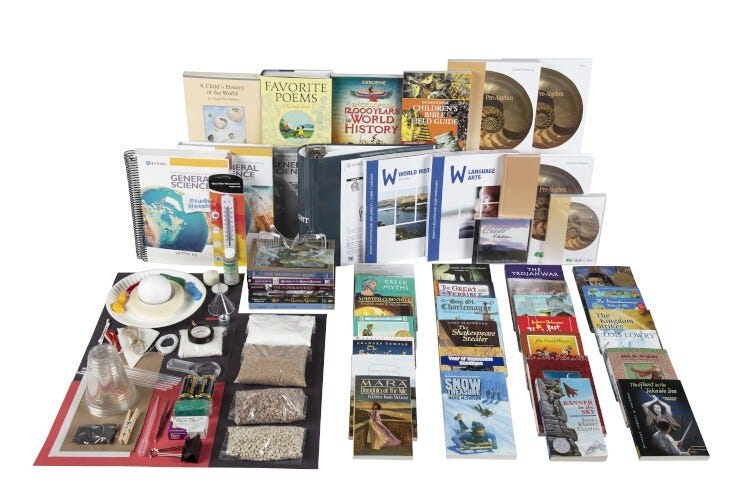 We loved the reading selection, we loved the poems, the language arts was comprehensive, the experiments were fun, and math was great but we saw areas of improvement. And that's when I found out that sonlight also had a sister company, bookshark. And bookshark is a more secular version of sonlight, which is what I wanted. I looked through the next curriculum and decided that we did want to move over. So we get the same teaching style, with all the amazing books, but toned down a bit for our religious preferences.
So for 8th grade, bookshark the books for 2021 look like this (below)
If your child isn't a reader, this probably wouldn't be for you. My son LOVES to read. I showed him the book selection and he can't wait to get them.
Now lets talk price… I know many people think a curriculum like this costs a lot, and decide to go with an online one because they THINK it will cost less… but in reality with many online ones (not all), you end up paying THE SAME COST just over the school year ….. I know I did when we did a digital / online curriculum, AND my son learned better with hands on materials.
I got a 20% discount (which seems to be the basic discount they give everyone, honestly I have not seen it change) WITH taxes AND with me adding on some extra spelling books (we need to focus on spelling and handwriting), it cost me $995 for the ENTIRE kit. Same with Sonlight, it was roughly 900$ last year as well. If you look up similar curriculums they are similar as well.
I plan to let you all know what I feel about this curriculum in the up coming months. My son will finish up his 7th grade sonlight program soon and we will take a break, I will have a baby and then we will start the school year back up again with bookshark.
If you are one of those people who wants to know the methodology of these programs here it is directly from their website: (Bookshark)
Sonlight has a similar type of statement but their website is a bit different from bookshark:
Now my son is turning 13 soon and the only issue I see us running into is … running out of curriculum with these companies… both only go up to certain levels and I am not informed if they are going to be making any more … for instance my son is on level I for book shark… BUT bookshark only has levels listed up to J…..so after this do I just find another curriculum or will they be expanding? I have been contimplating online high school for 9-12 grade for my son but if that doesn't work out (if we don't like it), then where do I go? That the issue I am seeing with these homeschool programs, many of them run out of materials… too soon for my liking.
The level J says its for ages 14-16… but I graduated at 18. And no I was not homeschooled but I feel like there should be more levels… anyways I am looking into that now so that it doesn't come back to bite me in the butt in a year or 2.
I do know of other programs we could use, I just need to prepare myself. Sonlight and bookshark are not the only homeschool curriculums I have seen do this… I have noticed a lacking of actual high school materials. My son does better hands on with his materials so online school kind of bugs me. But we will see where things go in the future.