Sonlight Curriculum – Awarded Best Overall Homeschool Company in 2012 by Old Schoolhouse Magazine <– Before I start, if you are still looking for a curriculum that is literature based for your child, click that link to check out sonlight curriculum. If you use my code – DH20479937 to receive $5 your first order of $50 or more!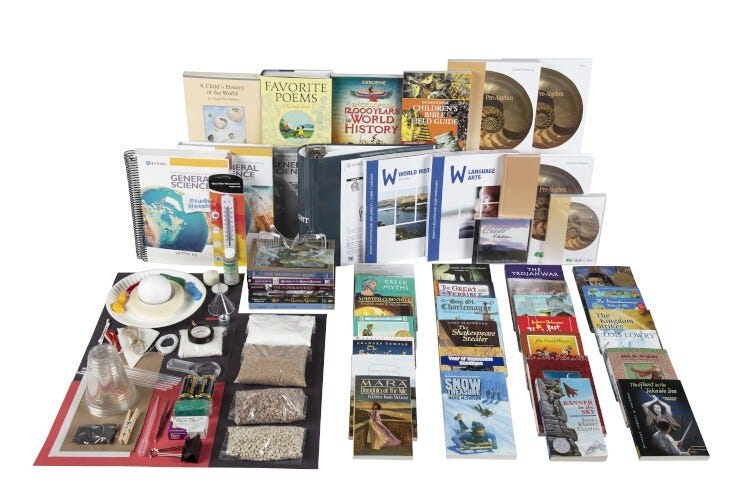 The above image is the curriculum my son is using this year. He is using the Grade 7 – W pack. He is really excited to read some of the books shown, and I am really enjoying how everything is laid out for me, so I don't have to worry about making my own schedule. I have a teacher's guide which tells me when to teach things and what pages, obviously we can deviate but it has the required 180 days of school that we must do and it's a FULL curriculum. Yes this is a faith based curriculum, but there are other sites that sell secular as well. We decided this year to move away from the secular learning and go with sonlight.
I want to keep you all updated on how this goes for us since we have done some online homeschooling in the past AND book…but this one is literature based. I think for my son, this will be better and less distracting. He loves to read and when our "box day" came and he saw all his new books, he was very excited. He struggled with online learning and when I asked him what he wanted for this next year, he said "BOOKS". The cost of this vs the online homeschooling is pretty similar as well, and I can always resell the curriculum when I am done with it instead.
Why aren't we doing online public school?
Honestly I don't like our options. K12.com is not available in my state and the ones that are available don't seem like they give you enough support and you can't change your schedule around as much as I would like. I miss having a teacher to go to, but then again I don't. I didn't always get the proper amount of support from my son's previous school and honestly if the teacher was burned out or too new, they just ignored him. I only had 2 really good teachers the 5 1/2 years my son was in public education.
Why not online homeschooling again?
Well my son has ADHD and he complained that the videos were too distracting and that he would prefer to read more. He wanted books to review information easier. The online stuff didn't allow us to have PHYSICAL text… so bringing his tablet or computer somewhere got annoying. Plus he really is very bad at taking notes, (again ADHD) . But having something physical may help us and our situation.
Why religious and not secular?
Well my son is being raised christian, even if I am not on the same path as him and I feel that this type of structure would benefit him. I personally wouldn't mind if it was more secular based but I couldn't find a secular homeschool curriculum with all the things I liked that sonlight offered.
Why am I starting in the middle of July?
My son is bored. So why not?
We are going to ease into this school year, so hopefully it goes smoothly. I am waiting for the back to school sales start so I can get some more notebooks and other fun items. I went early since we will be starting tomorrow, and I only got what I will need for now. The rest can wait until the sales hit.
I don't really know how the public schools will handle this coming year but I wanted to show you all that homeschooling can be done. And you don't have to be weird.
There are TONS of curriculums, free, paid and religious/secular to choose from. My 2 year old uses ABC Mouse to learn currently and that is working for her. But once she gets older, we may homeschool her, we aren't sure yet because her learning situation is different than my son's.
According to SONLIGHT – the time spent per day doing the curriculum I chose for my child (yes there are multiple options for different ages) is Child: 4 – 6 hrs; Parent: 2 – 3.5 hrs. And honestly I believe that is pretty darn good. I can set a side a few hours a day to make sure my son is educated properly instead of being ignored.
The pubic school system just didn't work for us. They let my son down. And I was struggling with them daily. I missed work constantly and his grades were going down. Eventually some of his educators and I talked and they even mentioned online school or homeschool as being a better option and when I pulled him from public school the principal and I talked…she eventually told me I was probably doing the right thing. So far…I feel I have not made a mistake by doing this.
So even if you plan to homeschool for a little while due to COVID-19 OR if you choose to do it for the rest of your kid's education, the choice is up to you. I personally believe that public school does have a place…just not for my son.